Library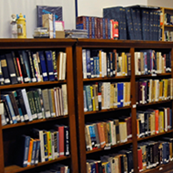 A bounty of books, some audio as well
On wide-ranging subjects, too many to tell
Fiction, biography, art, photography
History, Bible, Talmud and Rashi
For those yearning to learn, or to be entertained,
Or both.
To view the holdings, click on the link (PDF) or click here to download our library catalog (Excel)
More than 2300 entries – to make you think.
The Library is located on the upper floor
Do make the climb, and come explore!
The Dewey decimal system is what we used
With some exceptions, just to confuse!
Please sign the card to take a book home
Leave the card in the holder – then the book can roam
Just remember to return it
Just as soon as you see fit.
We have volunteered books, and some new too
And volunteer workers – how about you?
We are indebted to Jacob Manaker and Josh Waterston
For questions contact Amy Strauss or Judy Kinman
Thu, April 2 2020
8 Nisan 5780
Note: due to the national health emergency, please check the Coronavirus Information page for updated schedule information.
---
Today's Calendar
---
Upcoming Programs & Events
---
This week's Torah portion is

Parshat Tzav
Shabbat HaGadol
View Calendar
Important Health alert
If you have early symptoms, and are looking for information about how to get tested for coronavirus, DO NOT GO TO THE EMERGENCY ROOM. As always, call 911 if you are experiencing acute shortness of breath.
As hospital emergency rooms begin to fill up with patients who suspect they may have
COVID-19
,
the risk of picking up
COVID-19
in a hospital emergency room
will increase.
The Philadelphia Department of Public Health has set up a
Greater Philadelphia
Coronavirus
Helpline at:
1-800-722-7112
This free helpline is supported by the Children's Hospital of Philadelphia and staffed by medical experts.
You can also call your own doctor's office for advice.
The state, too, has set up a hotline:
1-877-PA-HEALTH
.
The main thing is to avoid going to the ER to be tested for
coronavirus
.
PLEASE HELP SPREAD THE WORD!
(This alert was provided by the Children's Hospital of Philadelphia)
Thu, April 2 2020 8 Nisan 5780