Library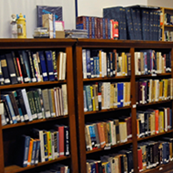 A bounty of books, some audio as well
On wide-ranging subjects, too many to tell
Fiction, biography, art, photography
History, Bible, Talmud and Rashi
For those yearning to learn, or to be entertained,
Or both.
To view the holdings, click here to download our library catalog (Excel)
More than 2300 entries – to make you think.
The Library is located on the upper floor
Do make the climb, and come explore!
The Dewey decimal system is what we used
With some exceptions, just to confuse!
Please sign the card to take a book home
Leave the card in the holder – then the book can roam
Just remember to return it
Just as soon as you see fit.
We have volunteered books, and some new too
And volunteer workers – how about you?
We are indebted to Jacob Manaker and Josh Waterston
For questions contact Amy Strauss or Judy Kinman
Thu, September 21 2023
6 Tishrei 5784
Thu, September 21 2023 6 Tishrei 5784